TOURNIQUETS: WHY?

All tourniquets have the potential to save lives, but they must be used timely and correctly. Then get bleeding person to medical help ASAP for proper removal and care.

WHEN TO USE TOURNIQUETS:

Four Steps to Stop Bleeding:
Do each step in order. Proceed to next step only if bleeding continues:
1. Elevate the bleeding limb
2. Apply pressure just above bleeding site
3. Apply pressure to pressure points
4. Apply tourniquet to bleeding limb 2-3 inches ABOVE bleed

How to Properly Use a Tourniquet:

If bleeding is not stopped by other measures a tourniquet must be applied Timely. 60 - 90 seconds to death if femoral bleed Correctly On upper section of limb, above joint;
1. At least 2-3 inches above the bleed as artery will pull up if severed 2. Call for help or get person to medical attention ASAP

Types of Tourniquets and which to use and When:

There are two main types of tourniquets:
1. Pneumatic Tourniquets
generally used for surgeries on limbs may be used in field but must be pumped up to work best for short time on limb
2. Non Pneumatic Tourniquets
a. Even Pressure Most Tourniquets are even pressure Best for short time on limb
b. Dual Pressure Best for times when it must be in place for long time Most expensive

What is Another Chance Tourniquet ?

Another Chance Tourniquet, has a line of tourniquets categorized by transport time.
According to DoD, the time to permanent damage is 78 minutes so: Another Chance Tourniquets are categorized by:

1. Long transport time, LTT, e.g., in rural areas such as hiking, hunting, horseback riding, farming, where transportation is not readily available and time from application to removal of tourniquet is expected to be close to or more than the 78 minutes,

2. Short transport time, STT, e.g., city or urban areas or where transportation to medical help is relatively short,

Products of Another Chance Tourniquet

A.C.T STT , is an even pressure tourniquet that buys more time for life, but is best used for short transport time*
Lightest net weight only 0.6 oz
Smallest, easily fits in palm of hand
Dual closure
Must cut locking hook to adjust strap once locked

A.C.T. STTB is an even pressure tourniquet that buys more time for life, but is best for short transport time*
Light weight, net weight is only 2.4 oz
Small
Dual closure for secure hold
metal buckle easy to readjust pressure/strap

A.C.T. LTT is dual pressure tourniquet that buys more time for life and limb, is best for long transport time, but NOT for AMPUTATION
Light weight 4.2 oz
Applies High Pressure UNDER strap to stop bleed, less pressure elsewhere to preserve viable tissues longer
comfortable fabric strap minimizes pain <150 mm/Hg pressure without pressure stay
Easily adjustable strap with metal buckle
Dual closure for secure hold


Always Position Tourniquet on upper part of limb at least 2-3 inches above the bleeding site

ACT - do not delay
if unstoppable bleeding use a tourniquet - save a life


* 78 minutes is the "golden hour" for tourniquets and the time after which permanent tissue damage occurs if it has not been amputated or otherwise severed.


How does a tourniquet Work?

In the body vessels from the heart to the limbs start out as one artery and one vein, then split into deep and superficial vessels. This split occurs mid upper arm or on leg. in the hip. Placing a tourniquet 2-3 inches above the bleed, but below the split, gives best chance for the deep circulation to preserve limb tissues below the tourniquet. Placing tourniquet below the joint on lower section of the limb, is ineffective in stopping bleed as the two bones of lower limb protect the vessels. Bones would have to break before bleeding is stopped.

All tourniquets have the potential to save lives by preventing "bleeding out".

A dual pressure tourniquet has the potential to stop the major bleed if placed properly, on inside of the upper section of the limb, where the vessels are more superficial, above the joint, may still allow deep circulation. This is best used when transportation time to medical removal is expected to be long.

Even pressure tourniquets stop all blood flow and are for short transportation times.

Normally, circulation removes toxins slowly so the body can detoxify and remove them, while bringung nutrients and oxygen to the cells to keep them alive. Slow removal of toxins has the potential to prevent or slow development of toxic shock, which is a complication of tourniquet use when the tourniquet is released, toxins are also released which may overwhelm the bodies ability to remove them.

Diagrams below show the main splits of circulation. Black bars show the best locations of tourniquet when transportation time is expected to be long. If transportation is expected to be short, place the tourniquet as high up on the limb as you are able. The red circles with line through them, show the places not to apply a tourniquet as it will be ineffective and just waste valuable resource.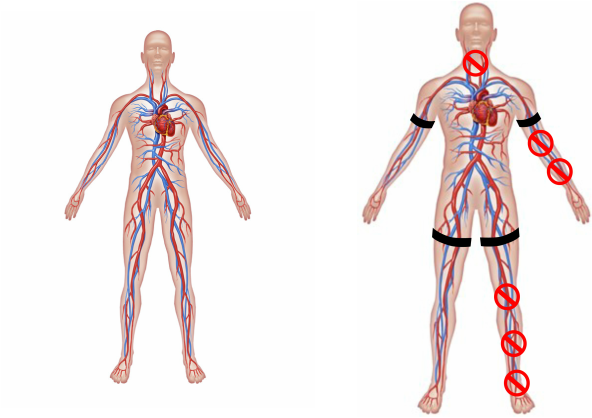 You can see in the image that circulation splits mid arm and at hip area into deep and superficial which allows pressure to stop superficial circulation and not the side circulation or rest of the circulation to allow circulation below the tourniquet to reach the limb tissues when pressure is only applied over the superficial branch to that limb. .
---