Mel Svorinic, my physical therapist, had no idea how he changed not only my life, but those of many others. The physical therapy maneuver that he did on me allowed me to walk with minimal knee pain, but only lasted for less than an hour. It was invented by Dr. Brian Mulligan, a New Zealand physical therapist.

​Dr. Mulligan's theory is that joints are meant to be in motion and that the bones need to be aligned so as not to damage themselves during motion. The knee maneuver for side to side instability is Mulligan Mobilisation with Movement Glide - you glide the bones back where they belong. (Mobilization is spelled with s in New Zealand). Mel used a lot of force and it did hurt to do the maneuver, but I could walk!

​When the bones scrape over each other as when they are not aligned, they damage each other which causes the body to "think there is a foreign invader ". This results in white blood cells attacking the edge of the bone scraping the other bone. As a result the attacking bone is slowly dissolved away.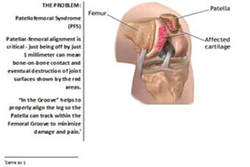 The red part of the patella and the end of the femur scrape over each other during knee movement. If the femur and tibia, lower leg bone, are not lined up the patella cannot track in the groove and ends up scraping the femur damaging it and causing the cascade that is arthritis.

Fig 1 bones and ligaments of the knee with knee cap
I had knee pain all along after the accident but no one would address it until I got the foot fixed. Now it is time for the knee. I had arthroscopy to see what state it was in. Arthritis was found and my actual picture is below.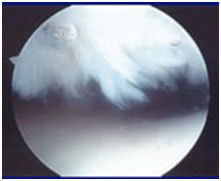 Here is a picture of chondromalacia, or arthritis, in my knee. You can see the bone being dissolved away as the body is trying to remove the cause of the pain thinking it is a foreign body. Unfortunately, the invader was just the bone not being aligned.
Fig 2 actual picture of arthritis in relatively early stage

An artists depiction of what arthritis should look like the way it feels.
Fig 3 what arthritis feels like - pain with each and every movement
The artist who did the above picture must have arthritis as this is how it feels. It is also worse when the weather changes, as many people say. I thought that once the foot was fixed I would be walking and working standing all day. Wrong! I could barely walk, now both the reconstructed foot AND knee hurt. They both hurt the more I walked or stood.
To align the thigh and the lower leg, Mel pushed hard on the thigh outward while pulling the lower leg toward my midline. This was the Mulligan Mobilization Movement with Glide. I could not believe the relief I felt. I was able to walk without severe knee pain! I did not think that Mel would do this maneuver on me whenever the effect wore off so I cut up old braces, took stays out of carpal tunnel braces and made a brace that did this maneuver, though slightly modified.


Fig 4 the Brown Mulligan Maneuver


I walked into my next physical therapy appointment. Mel was surprised! He said "I am good, but not that good, what did you do?" I showed him my cobbled up brace. He studied it, moved it around. Finally, he handed it back to me and said, "I have never seen anything like it before. Patent it."
​This maneuver can be done by yourself on yourself and will give up to an hour or so relief and can be done as often as needed.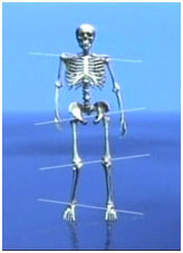 If you are old enough to remember the song: "The thigh bone is connected to the leg bone, the leg bone is connected to the ankle bone, the ankle bone is connected to the foot bone..." They are really connected and as you can see they if one bone bends one way, the next in line bends the other way and so on. The body does try to level itself.
Fig 5 Unleveling skeleton
My husband is an osteopathic physician so he understood Dr. Mulligan's maneuver and had me stand bare footed in front of him. He said your feet are not aligned and that may be the cause of your knee pain. He took picture of me standing and it was undeniable that my foot is not aligned. You can see if your foot is causing your knee pain by having someone take a picture of you standing bare footed. Also, be sure to check out the bottom of your shoes. Mine were worn unevenly. If the sole is worn evenly, then that is not the cause of knee pain and you should check out the hip.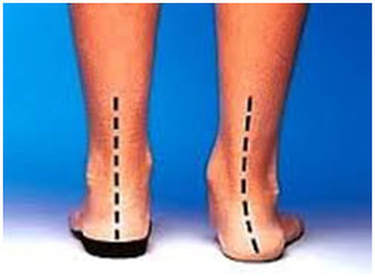 As you can see the right ankle is not straight when standing, but the left ankle with insole to correct level of foot is aligned. Just getting an orthotic is not enough. This person also needs new shoes, or to resole their shoes. Some stores sell orthotics and have a pad to stand on which tells you what orthotic will straighten your leg. If severe, then see a health professional to get orthotics or other help to relieve leg pain.
Fig 5 Have someone take a picture of you standing to see how your feet and legs align
Few women need an excuse to get new shoes, but this is a good reason. Too bad I had to have tall ones with ankle support and not the cute unsupportive shoes I would prefer to pick. After all, I had to get new pants to fit the braces I had to wear in the beginning as they shredded the pants if worn over them and the brace was so thick that I had to get palazzo or culottes to go over them. When you have to wear ugly braces, there has to be something positive. Too bad they were not real hip.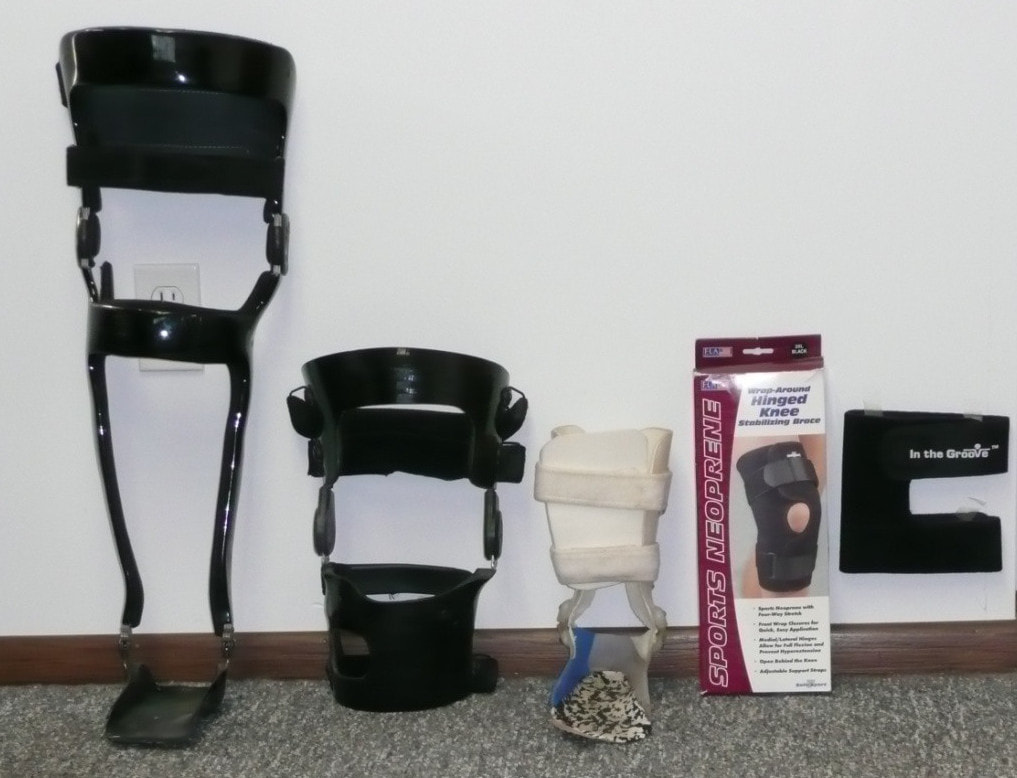 Fig 6 Braces I have worn, the smallest is the final one I invented.

​I am grateful for the early braces as I could not walk without them, but appreciate being able to be down to the smallest of them which is also the most comfortable.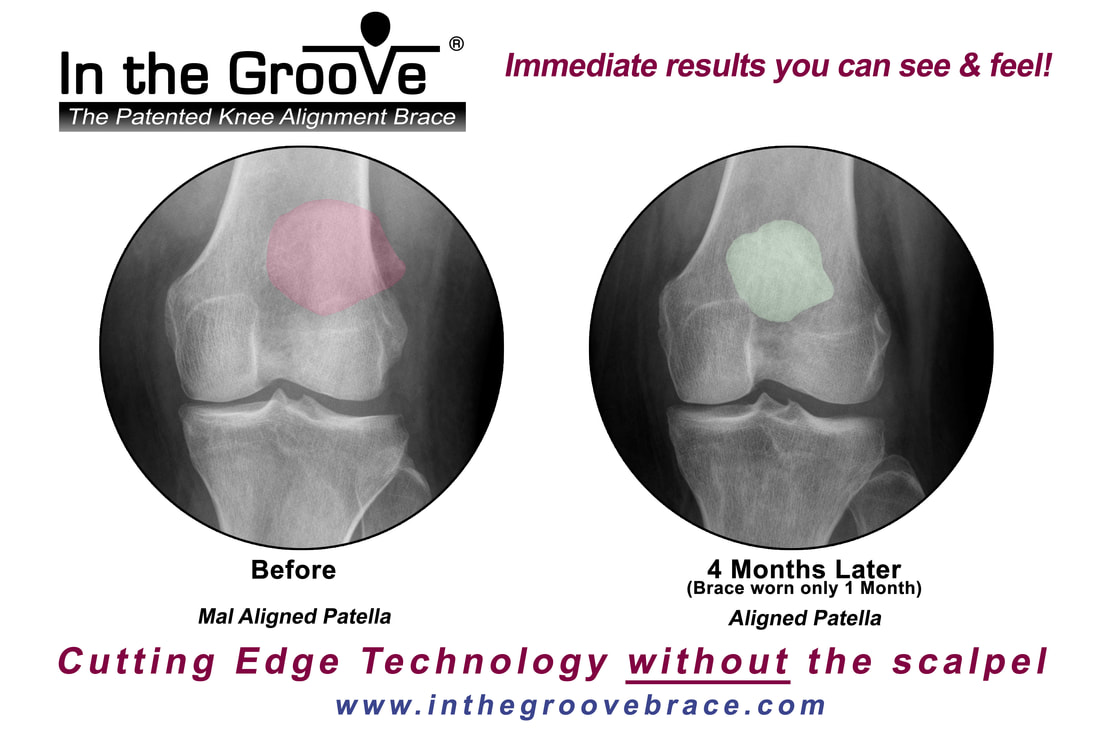 Fig 7 X Ray evidence of effect of aligning the bones behind the knee cap to allow the knee cap to track in the groove.

I was lucky enough to be invited to Vendor Day at Ft. Detrick. I found out that not only did this brace help runner's knee but also jumper's knee.
Now if only I had kept my mouth shut about its potential dual use as a tourniquet.....but that is another story.
​
​It is step 4