On the way to work one day, my life changed forever. I tried to get off work, but was unable to find coverage. I tried not to think of the party after work, and just enjoy the beauty of nature. It was a foggy day. It was kind of a weird day. The valleys were heavily fogged in, but at higher elevations it was as clear as a bell. Sometimes the fog was so thick you would think you could cut it, the other just like little wispies. I wondered at the dew on the spiders webs, they glowed like little diamonds. I also looked forward to work as I loved my profession. I had a great boss and loved working with some of the nicest people in the world. And there was a Holiday party to go to after work. Life was wonderful!
All of a sudden, BANG. A semi truck with pup made a left hand turn onto a two lane country road, just as the fog rolled in. The driver could not see if there was a car in either lane or not. He was in a hurry. He just pulled out. The car he cut off had the choice of a 6 foot ditch on the passenger side, hit the truck, or hope there was not a car in the opposite lane. Unfortunately, I was there.
I do not remember the actual impact of the car. I do know its impact on my work place and the quality of life for both my family and myself.
My left hand went through the driver's window, my hands were injured when the steering wheel broke, my knees were crushed as was my right foot, but I was alive. I couldn't move! I tried to reach my bag phone to call for help, but it was on the floor and I was so pinned in I could not move at all.
I had just filled up my gas tank. I worried that my car would catch fire as I heard many other cars hitting each other. Each time I wondered if I told my family I loved them and prayed the tank would hold.
It seemed like forever, but the ambulance finally came.
​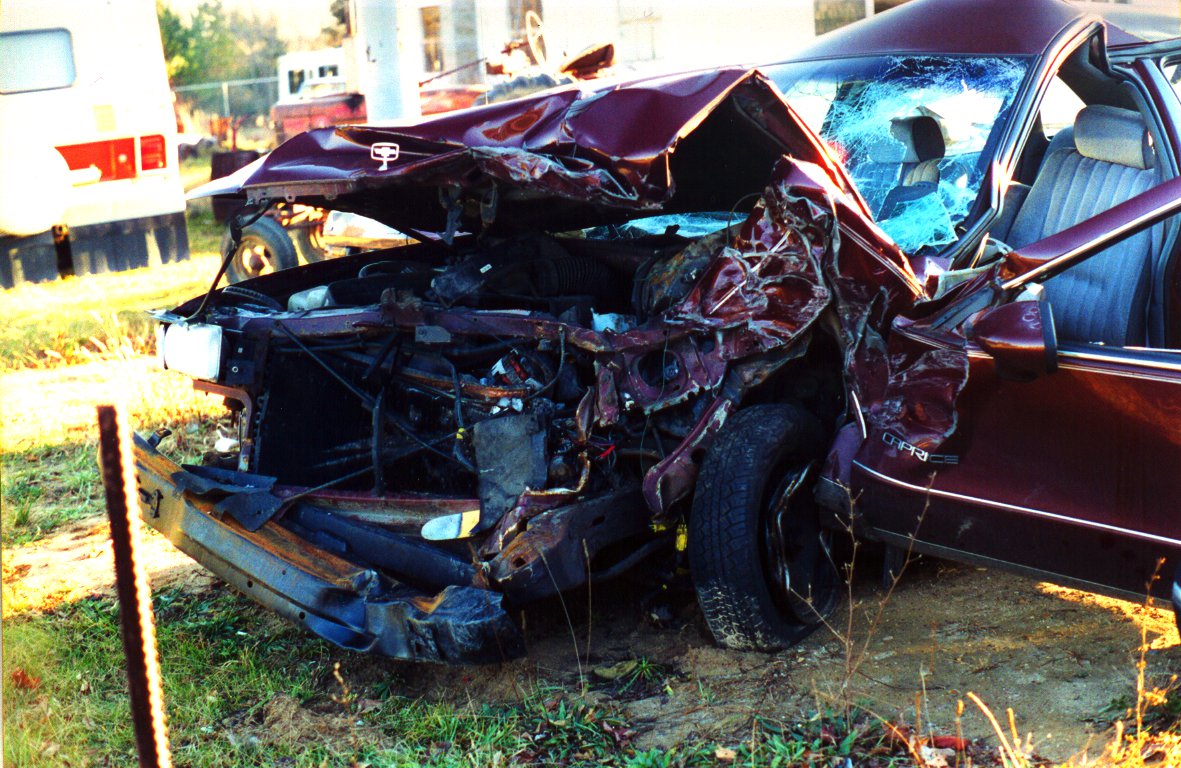 Fig 1 My car after being hit head on a country road. Luckily it was a big car. Because of my Caprice, I survived.
​

One of the paramedics came to where my window was and asked if he could go to the guy lying in the road as he had serious injuries and they were worried he would be run over. It was a two lane country road, a major thoroughfare. I told him to go to him as I was alright. I just couldn't move either my arms or legs.
Another medic came to me and said they called for the Jaws of Life. They were needed to extricate me. While I appreciate what the Jaws of Life did, the noise was horrible. My window was open so the lower Jaw went there and the upper Jaw on the roof. The two jaws clamp down until they crush whatever is between and open the door so I could be pulled out of my seat. You can see the indent on the roof in the picture above. It is really scary to hear the metal and what is left of the glass slowly be crushed and cut to release the door. A paramedic sat close to me and covered both of us with tarp so that any glass or metal fragments would not hit us directly. I told him that there was no reason to risk his life and that I was ok, but he said "it's my job and I am not leaving until you do." He stayed.
I then asked him to call my work to tell them I was going to be late and to call my husband. He said he would, but I do not think you will make it to work today…..
Little did I know that I was never able to go back to my dream job, or to go to that party.
As you would guess, I was rushed to an emergency room where my injuries were assessed. My favorite blouse, coat and pants were cut off. I was as upset as I was dressed up to a party after work. Then the doctor said he would have to cut off my new shoes. I was furious. I already lost all my clothes, now my shoes too! He said that since I had shoe laces, tennis shoes as I am a pharmacist and we stand on our feet all day, he could just cut the shoe laces and not the shoe itself. It was little compensation. But then, shoes are more expensive than blouses.
In the emergency room, on a gurney, I knew I was in trouble when the top half of my foot fell down. The shoe was holding my foot together. My foot looked like an upside down letter L! This is not what you want to see when it is YOUR foot. The doctor told me he did not think he could get my foot back into my shoe. I told him "then you should not have taken it off". He started to explain how sorry he was and that he had to see the extent of my injuries. I told him I was just teasing him. He said I reminded him of Dr. Patch Adams. It was good I could laugh about it. I missed his/this ominous prediction.
Perhaps I just did not want to hear it.
Lucky for me he was an orthopedic specialist. He explained that when a person stands on the breaks with all their might, which I did as I saw the headlights coming into my lane. I steered toward the side of the road, stood on the brake and braced the steering wheel as hard as I could. He said "the severity of your injuries depends upon whether you're a woman or a man. While both suffer severe injuries, men break their leg which tends to heal quicker and women their foot." It has something due to angle of the foot on the brakes. (It seems to me it that it is the person's leg length, rather than their sex, that is the deciding factor.)
Anyway, this was a small town emergency room and he told me that my injuries were such that I needed to go to a bigger hospital….
He said my injuries were impressive, not what you want to hear if you are the patient.
I asked when I could return to work. He said "ask the next doctor".
I did go to a bigger city, but after casting, then recasting under anesthesia, my orthopedic doctor consulted with other local orthopedic physicians there, and told me that my injuries were impressive. That since these procedures did not result in the fractures healing correctly; I needed to see an orthopedic physician that specializes in feet. An orthopedic physician that only treats feet.
I asked when I could go back to work. He said ask the foot specialist. Ugh Oh…
The foot specialist confirmed that my injuries were impressive and that I needed a foot fusion. I asked when I could go back to work. He asked what I did. He said let's see if you can walk first.
I mean I know that I was in a wheelchair, but what do you mean see if I can walk first? He is a foot specialist and they can do anything with surgery, right? He said take it one step at a time. "Let's see how you do after the foot fusion". I told him I could not even take a step right now. I am in a wheelchair and it is all I could do to just transfer from wheelchair to a commode. What do you mean see how I do?
It began to set in. Now instead of when can I go back to work, when can I walk? At that point - all I wanted to do was to walk to take that first step. Going to work would have to wait.
​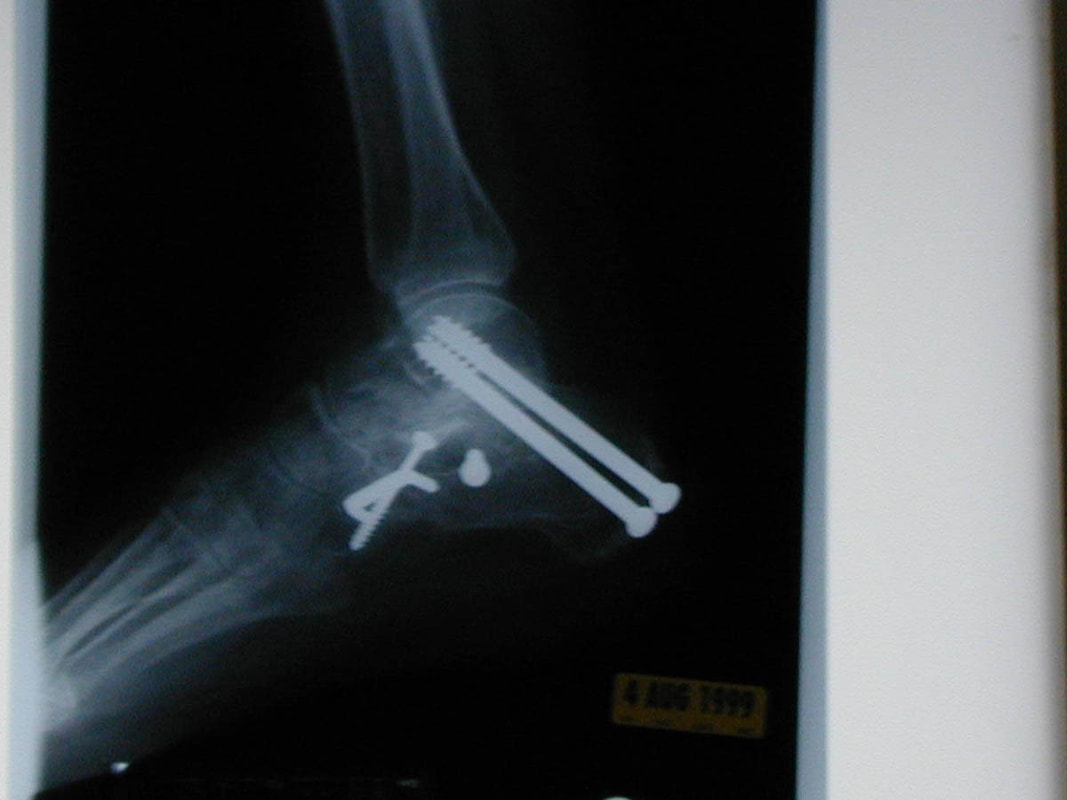 Fig 2 my right foot after fusion. Those bolts are 4 inches long – I could not believe they fit in my heel. It had to be fused to many smaller bones in the foot that were also fractured, so that my foot would look like a foot and hopefully work like a foot.
​

After many surgeries to right foot, and hands, I was still told I still may never walk again. I forgot to mention that my left hand went through the driver's side glass, cutting my left forearm, and imbedding glass. Glass fragments were spitting out on their own for months. I was told that since glass is not metal and clear, if they opened up my hand, it would cause more damage and that as long as the shards were working their way out, it was the better option. Also my thumbs were jammed against the steering wheel causing severe pain and worse pain worse pain when moving them. Luckily my hand surgeon knew what caused this and did surgery on both thumbs releasing the tendon. It meant that I lost some range of motion, but could use my hands, thumbs actually, with much less pain. When you cannot walk or use your legs, the best option for mobility is to use your hands. I had double whammy when I could not use them without excruciating pain. It is amazing how just a little thing can cause such severe consequences and life changes.
For 10 days after the accident I could barely transfer from wheel chair to commode, not go to my bed upstairs or use my hands. I wondered what I did so bad to survive. Wrong thinking. Life happens, it is what you do afterwa​rds that determines who you are and what you can accomplish, or is it the other way around. Thankfully, my daughter with MS set me straight whenever I wanted to give up I would call her. At 19 she had 3 severe attacks the summer after one year at University of Michigan. These attacks were so severe her physician said she may not survive this summer. She not only did, she finished college and graduated from U of M. She told me whatever you do, do your best and "forget the rest, never quit".
​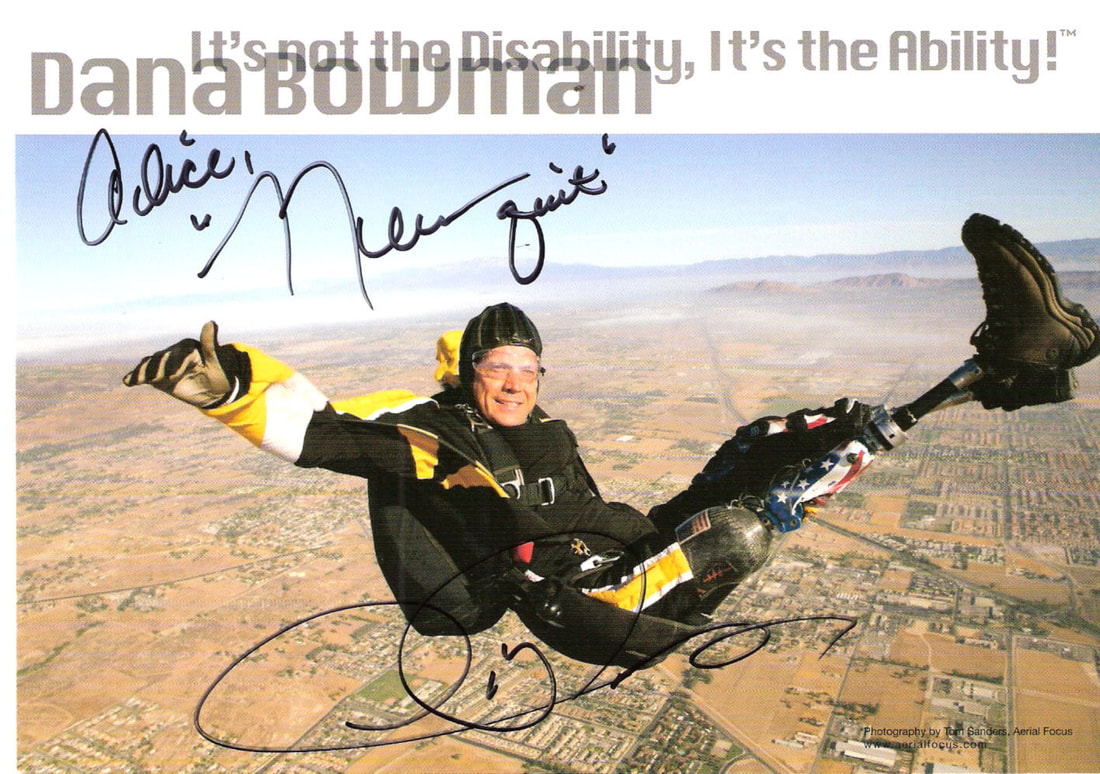 Fig 3 Later, I met Dana Bowman, a Golden Night with US Army, who was double amputee from skydiving accident. He reiterated that statement. His autographed picture is by my computer. "It is not the disability, it is the ability. Alice, Never Quit"
​
One step at a time…
​